Dr. Steven Kovach has been a dedicated Winrock volunteer for the past three years. Before retiring, he devoted a large part of his career to international development by working for USAID and Peace Corps, two organizations that are well known for utilizing volunteers to aid people in developing nations. Through Farmer-to-Farmer, Steven has coached youth entrepreneurs on eco-friendly techniques for banana production in Bangladesh, and trained members of youth employment agencies in Senegal and horticulture cooperatives in Guinea on the use and maintenance of drip irrigation systems and helped the groups to develop curriculum for training farmers in the future. This month, we honor Dr. Steven Kovach as the October Volunteer of the Month.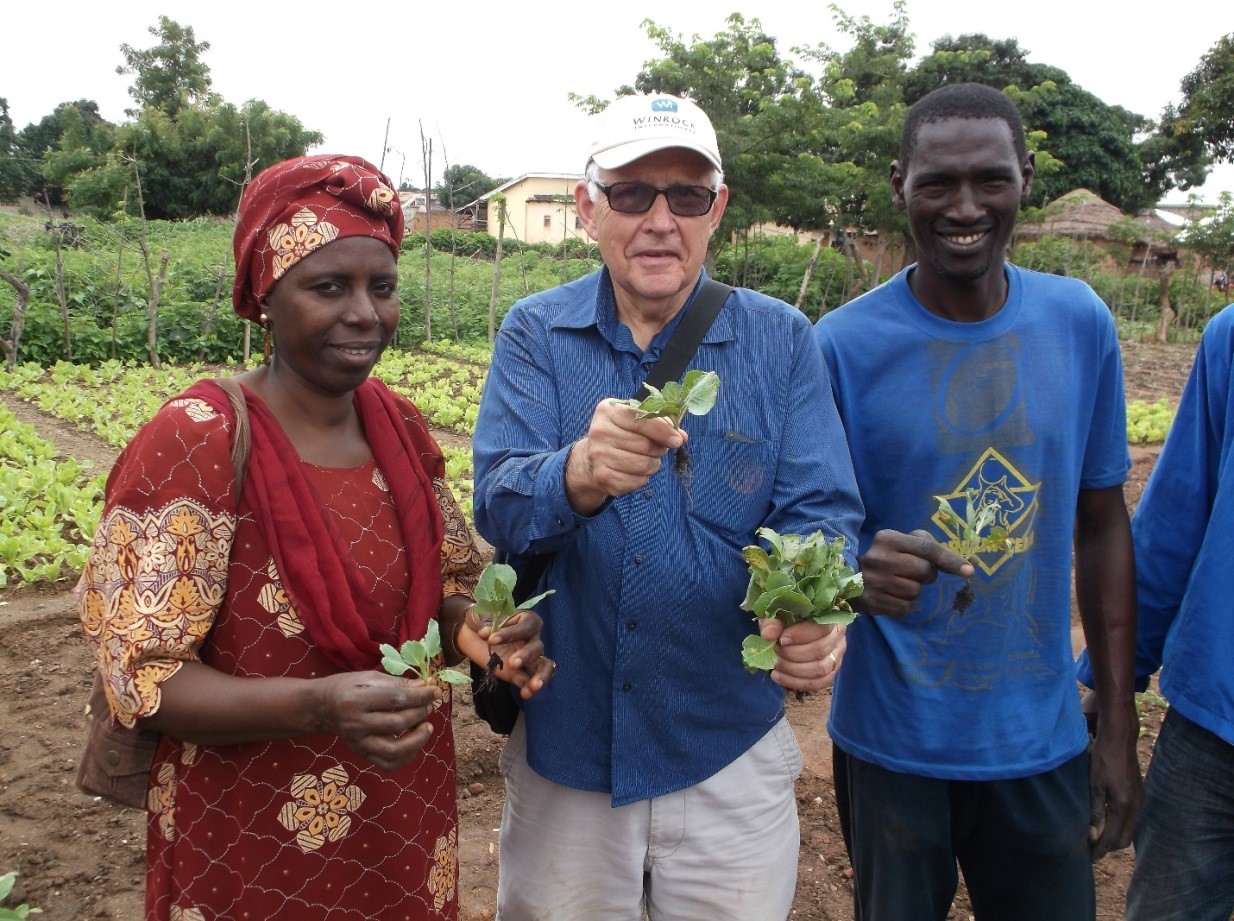 Why did you want to volunteer?
By being a volunteer with F2F Program, I am provided the means of sharing my technical knowledge in horticulture and drip irrigation technology to poor farmers in the developing world where their livelihoods can be improved and their food security enhanced.
What was the highlight of your most recent volunteer assignment abroad?
In January 2015, I left my position as the Agricultural Water Advisor with USAID/Bureau of Economic Growth, Education and Environment (E3), Water Office, Washington, D.C. to go into retirement. In February/March 2017, I completed my Winrock International FtF volunteer assignment in Bangladesh to conduct "Eco-Friendly Techniques for Safe Banana Production for Youth entrepreneurs".   As a result of this assignment, it brought to fruition a professional desire I have been working on for over 40 years–to see the successful environment developed and put into place that guarantees the successful implementation of drip irrigation technology in developing countries as a food security tool.
What made your Winrock volunteer trip distinctive?
The distinctive characteristic of my trip to Bangladesh dealt with the strong dedicated conviction by the Winrock Bangladesh country staff (Dr. Kabir and Badal) that the assignment I was on held high priority and making sure that all needed resources were in place to ensure a successful training program with the banana growers in Thanarbaid. Likewise, the host agency Shalom (formerly Church of Bangladesh Social Development Programme-CBSDP) shared the same dedicated conviction that helped to ensure a successful training.
What advice would you give a new volunteer
If there is any apprehension about entering a new culture and country, this apprehension will eventually dissipate and vanish through the extensive experience the country Winrock staff has with dealing with volunteers coming from different backgrounds. The Winrock staff knows how to address all the needs and concerns volunteers may be experiencing.
How have your assignments made a difference in your own life?/Has your assignment caused you to do anything differently once you returned?
After retiring in January 2015, I've found that volunteer assignments with Winrock, have helped me to feel positive about myself in terms of self-worth and knowing that I can still contribute to the betterment of less fortunate areas of the world. The confidence Winrock International has in me supports my ability to give important technical knowledge in terms of horticultural production to farmers that are thirsty to learn improved production techniques, such as drip irrigation technology.   The volunteer assignments have provided a rewarding transition from full- time employment to retirement status.
Why should people consider volunteering?
If someone wants to make a lasting change to the world in which they live and a change that will impact them for a lifetime through the memories of the people with whom they serve, then they need to volunteer their services and share their knowledge.
How do you feel about the support from Winrock, whether before, during or after your assignments?
Without the excellent support at Winrock's home offices in Little Rock and Arlington, including the many hours and other resources to logistically attract volunteers, like me, it would not be possible for the field offices to work with the volunteers to carry out their assignments. Staffs at the field offices are superb in ensuring that volunteers have the resources they need to carry out a successful assignment.
What do you do when you're not volunteering?
I spend time at home with my wife (Glenna) and two dogs (Phantom and Dixie–two hybrids). I handle the yard work and other home maintenance projects.  My wife and I enjoy taking long walks together and taking our dogs on outings.
What keeps you going back to volunteer?
I continue to desire to either volunteer or work in any capacity in developing nations, because of the trainees'/farmers' thirst for knowledge.
What, if anything, has surprised you on your assignments?
I have been working with drip irrigation technology for over 40 years and it always encourages me to see the enthusiasm it brings out in farmers and others in agriculture, such as students and other agricultural technical support personnel and extension agents. One does not even need to be able to read or write in order to understand what drip irrigation can do when seeing water coming out of the emitters on the drip tape "drop by drop". It always amazes me how quickly the younger generation, whether in Guinea, Senegal, Bangladesh, US, etc. has embraced the use of mobile phones as a means of information gathering and sharing with Facebook, the use of the internet, and other social media outlets. I continue to be pleasantly surprised by the continuous unselfish dedication by Winrock's US and country staff by ensuring that volunteers have a successful assignment.
To learn more about the technical aspects of his assignment, check out our recent blog post.