It's early Friday afternoon, April 21, Day Two of the Global Specialty Coffee Association Expo in Seattle, and Winrock's Senior Director of Agriculture and Enterprise Amanda Hilligas is talking very, very fast: "I'm feeling extremely lightheaded and caffeinated because there are hundreds of booths, and it's the best coffee in the world, and you want to try it all but then you forget how much you've had."
It's not just any brew that's revving Hilligas. It's Myanmar Specialty Coffee, a product of USAID's Value Chains for Rural Development (VC-RD) project, implemented by Winrock. These beans are grown on the hillsides of Burma's Southern Shan state, air dried on raised tables — dried naturals — and (for the first time last year) shipped halfway around the globe to be roasted, cupped, sipped and praised by some of the most world's most discerning coffee-lovers.
In a single year, Myanmar coffee "went from being not even specialty grade to being really high in the specialty range," said Craig Holt, founder and owner of Atlas Coffee Importers, who imported the first shipment of Burmese beans last year.
Holt was present at a cupping of Myanmar coffee at the expo, where it earned raves and contributed to the hyper-caffeination of many attendees. "The growers really embraced the work that needed to be done," Holt said at an earlier coffee event. "They were exceptionally willing to take the information they were given and not just absorb it but expand and apply it instantly like no place I've ever worked with."
Hilligas seconds that assessment. "In my career I've never seen anything like the adoption rate for this new technology in Myanmar. I was there in March and I can't tell you how amazed I was," she says. "There are very rare times where you see something so revolutionary, so completely unique in what farmers are doing, how they're taking on practices and scaling it out to additional villages. It's taking off, which is exactly what we want — villages supporting their own growth in the future with continued high quality."
Expo attendees seemed to pick up on that excitement, crowding Booth 917, clamoring for more of that distinctive, rich Arabica. And the cupping and sharing was just part of the weekend's activities. On Saturday afternoon, former VC-RD chief of party Steve Walls received the Coffee Quality Institute's  Lifetime Award of Merit for his four decades of work, much of it in the coffee lands, most recently in Burma.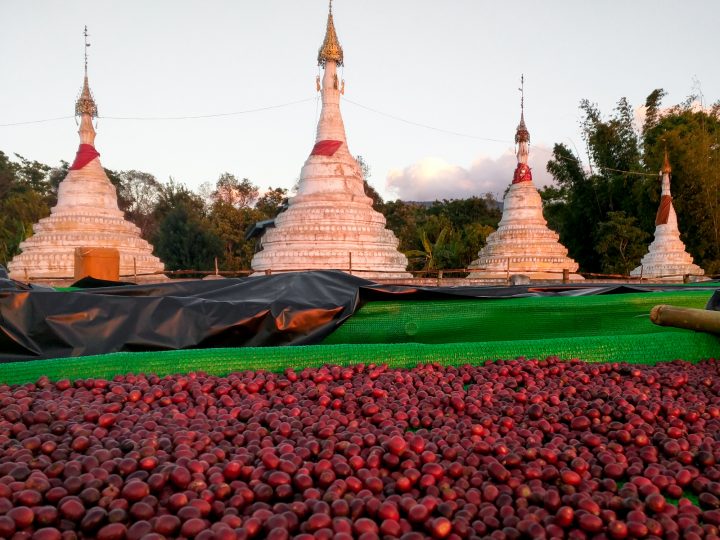 On Thursday, April 20, Winrock's Director of Blended Finance Pablo Ramirez kicked off the coffee celebration with his presentation at Re:co (Regarding Coffee, a high-level TED-Talk-style coffee symposium). "These are human value chains who happen to produce coffee," Ramirez said, describing the people behind VC-RD's landscape-altering work. Just as we de-risk transactions, Ramirez said, so should we de-risk people, building trust by listening and collaborating, increasing food security, providing income generation and more.
Burmese producer Ma Su Su Aung, who traveled from Myanmar to attend the expo, is an example of such "de-risking." Her beans earned a top-ten finish at a 2016 cupping competition, which attracted global buyers and enabled her to sell her coffee to exporters. Now she and other women farmers have banded together to form the first women's coffee group in the area, with the goal of creating new job opportunities for women, increasing incomes and improving technology for women in the coffee business. VC-RD has supported Su Su's coffee processing business through a grant that allows her to obtain new milling equipment to help nearby coffee villages improve the quality of coffee they produce.
What the SCA Expo made clear was that, as Myanmar Specialty Coffee heads into its second season, it's only getting better. "The big thing everyone was thinking was that you have to come back in year two to produce more at the same or higher quality," Hilligas says. "And they've done that, and that's apparently very, very unusual for new producers to do. It's amazing what they have achieved.