Smallholder farmers in Pakistan are facing severe economic stressors. Catastrophic flooding, ongoing COVID fallout, and rising prices combined with exchange rate imbalances and political upheaval have all made it harder for farmers to grow food, find buyers and earn decent income.  
These are huge problems in a country where an estimated 40% of the population depends on agriculture for their livelihoods. With support from a U.S. Department of Agriculture Food for Progress project implemented by Winrock International, farmers are finding the resources they need to adapt and exploring new avenues for growth in the domestic market. Winrock's Pakistan Agriculture Development project celebrated the opening of a new processing facility in April 2023 that will enable tomato farmers in Punjab Province to sell to a buyer for pulping and paste products.
"Increasing tomato production and supplies to the market with this job creation activity, in addition to reducing postharvest losses for farmers, will improve access and affordability," said Farrukh Mirza, PAD's chief of party. Funded by a USDA grant administered by Winrock, the new AA Pulp & Puree facility is "directly contributing to food security, economic and locally led development with business engagement," Mirza added. "The more tomatoes are produced, the value addition and import substitution goes up, and directly contributes to the country's economic development."
Chris Rittgers, agriculture counselor with USDA's Foreign Agricultural Service at the U.S. Embassy in Islamabad, also attended the processing plant's inauguration. "It has the potential to benefit agriculture producers and to benefit Pakistani consumers … from upstream to downstream, we are very positive that this will be very beneficial all the way across the production stream."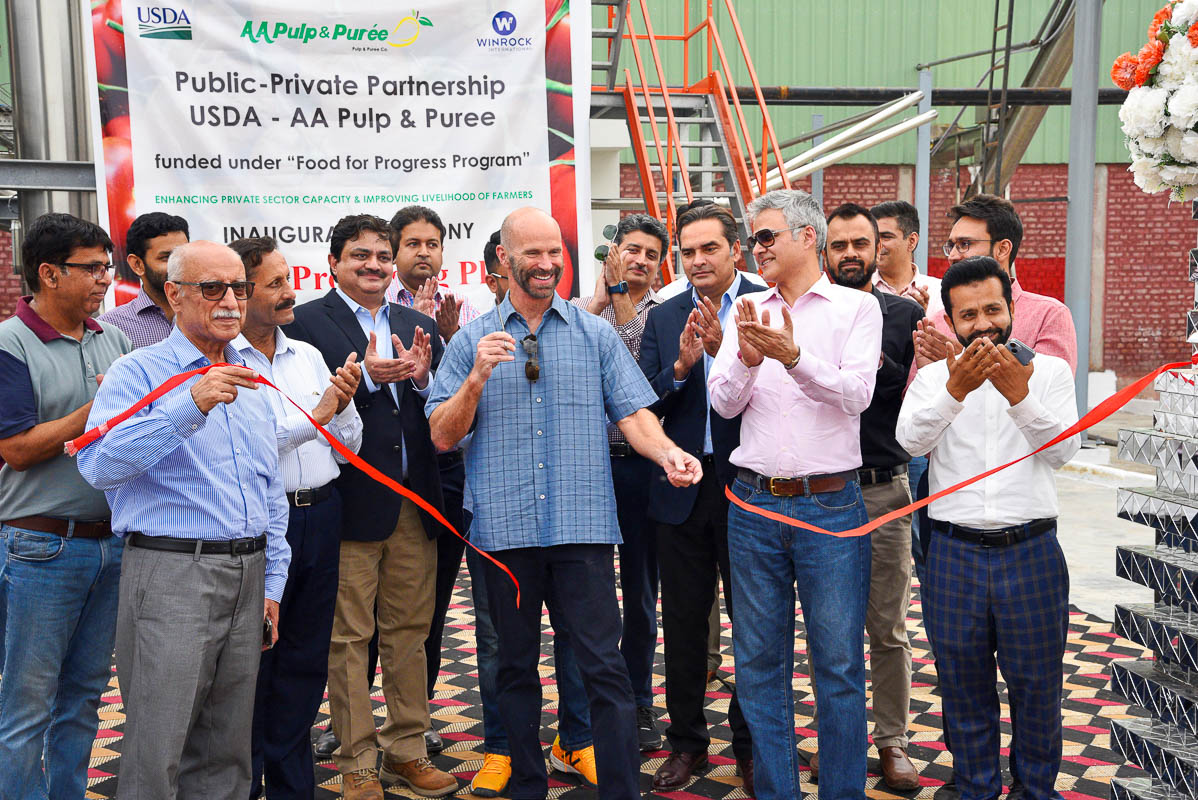 The plant offers a new market channel to agribusinesses in the tomato supply chain, "including farm workers, packaging, storage, agriculture inputs, equipment suppliers and financial institutions, as well as individual farmers, aggregators, transport contractors, and agricultural credit and extension services," Mirza said.
Compared to other crops grown in Pakistan such as beans, cotton or wheat, for example, tomato plants require more fertilizer. As a result, many farmers face challenges getting their tomatoes to fruit. The problem is compounded by ineffective practices and lack of modern equipment; climate change and water access are also issues. In recent years, tomato prices have decreased, causing farmers to plant smaller volumes. As a result, consumers have become dependent on imported tomatoes and related products such as tomato paste, to meet domestic demand.
The PAD project's leadership recognized that the shifting market dynamic might actually present an opportunity – if growers had local access to high-quality tomato processing facilities. A potential buyer was already lined up: Unilever, a British-based multinational food and consumer goods firm. The company has been hunting for locally sourced raw materials in Pakistan, including tomatoes, to reduce its reliance on imports.
The new facility will help meet some of that demand by sourcing from 139 tomato farmers. It's also creating employment, with 15 full-time jobs and an estimated further 100 contract positions expected. In its first year, the plant will operate at 60% capacity and produce a targeted 1,400 metric tons of tomato paste for the domestic market. Additional volumes are expected as the plant's capacity increases and as contract farming expands to meet demand.
The eight-year PAD project works with local partners to increase production and reduce post-harvest losses for smallholder farmers in Sindh and Punjab provinces. In addition to the tomato value chain, PAD works with farmers and agribusinesses in red chili peppers, bananas and dates, supporting increased incomes by improving local access to modern technology, financial services and higher-value markets.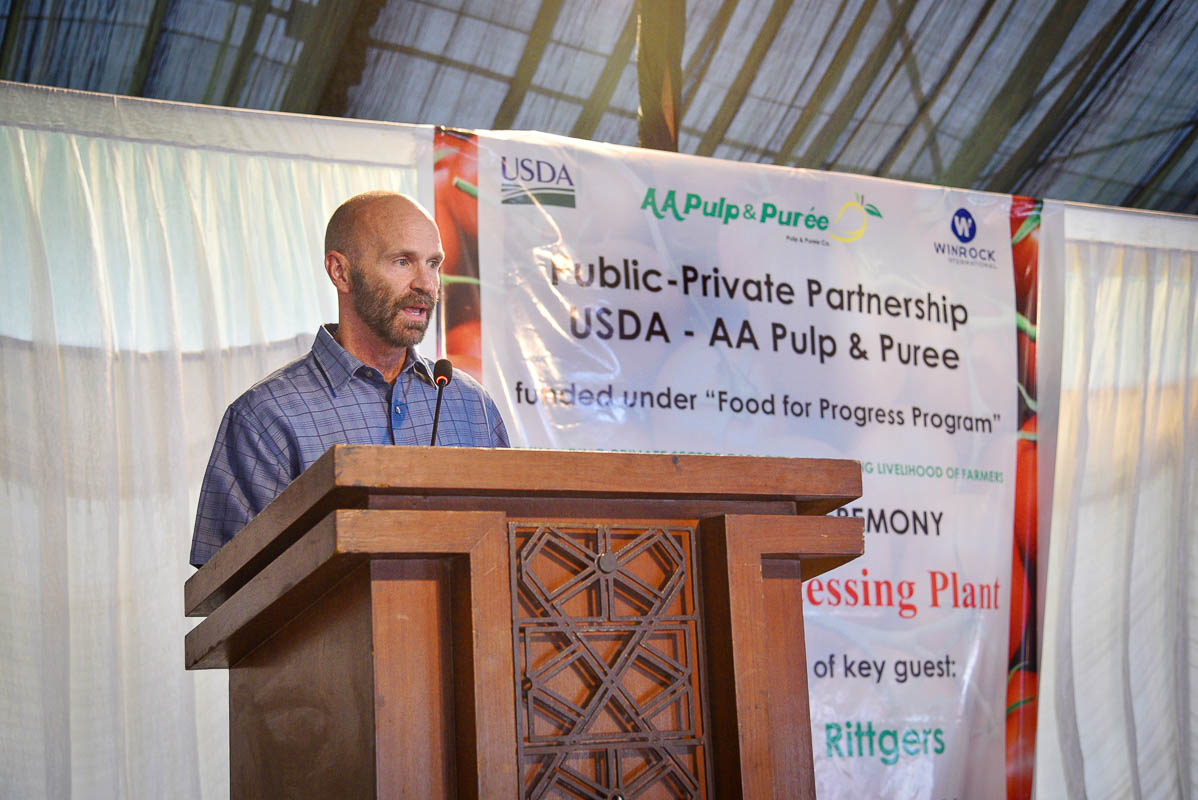 Rittgers said the processing plant demonstrates "the importance of shifting the U.S.-Pakistan relationship from a security emphasis to more on development and business engagement, and more on commercial relations. And this is precisely the type of project that does that."