The work of the Feed the Future Nigeria Agricultural Extension and Advisory Services Activity implemented by Winrock featured prominently at the 6th Africa-Wide Agricultural Extension Week – a major continental conference that occurs every two years.
Hosted this year in Nigeria's capital, Abuja, by the Federal Ministry of Agriculture and Food Security, the event kicked off with Nigeria's Minister of Agriculture and Food Security, Senator Sabi Abdullahi, unveiling the nation's new National Policy on Agriculture Extension, and Agricultural Extension Training Manual. The minister stressed the role of agriculture extension in delivering innovative, effective and efficient solutions to smallholder farmers, and recognized the significant contributions made by USAID Feed the Future in forming the government's new direction on extension.
The new training manual and policy were developed in collaboration with the Extension Activity and incorporate learning, best practices and evidence generated by the project's efforts to introduce a private sector extension model across Nigeria's agriculture system.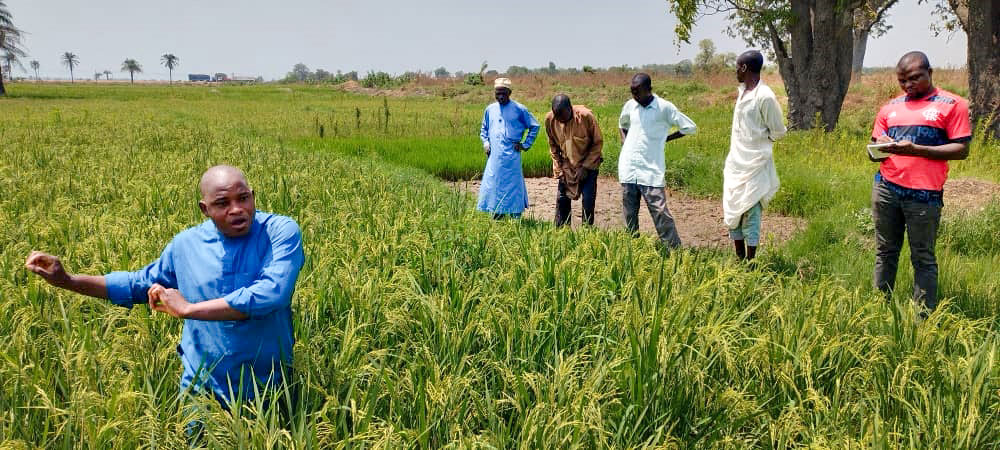 The inclusion and integration of private sector extension in the government system guarantees the effectiveness and efficiency of extension services and underlies its sustainability, said Winrock's Dr. Ben Odoemena, the Extension Activity's chief of party.
"An extension system that operates with one extension agent servicing 10,000 farmers is not sustainable," Odoemena said. "We cannot transform agriculture in a way that Nigeria will be food sufficient by relying on government alone, we need the private sector to participate in extension delivery and see extension as an enterprise."
"Using a private-sector, market-led approach, the Extension Activity is catalyzing a transformation in how extension services are delivered in Nigeria" said Jean-Pierre Rousseau, Winrock's associate director of agriculture. "The Activity has demonstrated the commercial value of extension, growing a business network of more than 300 micro-, small- and medium-sized enterprises that are delivering productivity- enhancing inputs and financial services, while disseminating extension messages to the doorstep of over 1 million Nigerian smallholder farmers."
In a series of panels held after the launch of the extension policy and manual, 13 of the Extension Activity's partner MSMEs discussed the effectiveness and profitability of private sector extension delivery to a pan-African audience consisting of policymakers, researchers and civil society representatives.
Albert Agidah, who runs an aquaculture operation in Delta State, described how adopting new production practices and investing in customer aftercare services fueled his growth. Agidah has doubled his production volumes and is now selling 4 million juvenile fish to growers, generating over $300,000 in sales each quarter.
Professor Oselebe, the CEO of a seed multiplication and distribution business in Ebyoni State, collaborated with state extension officers to grow her customer base from 153 farmers to over 10,000 farmers. So far, investments by the Extension Activity's MSME partners in smallholder service provision and extension delivery have generated over $1.2 billion dollars in farmgate transactions since 2000.
These results indicate "there is a future for agriculture extension using MSMEs," Oselebe said.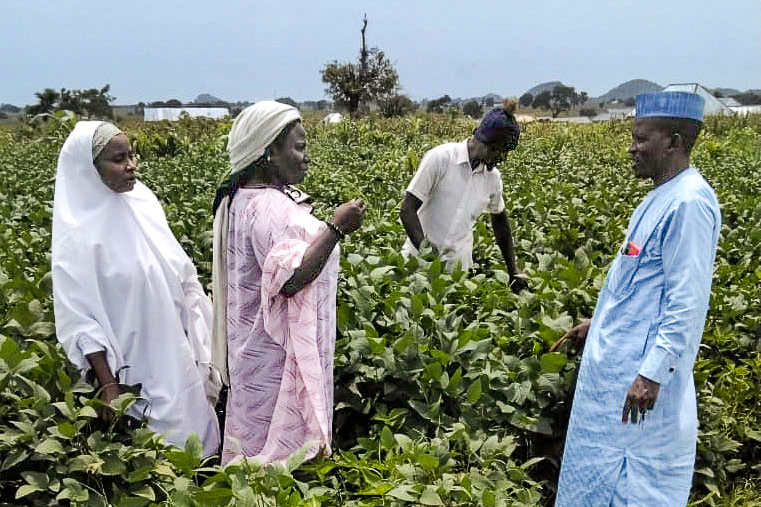 This MSME-led investment has paved the way for larger scale investments into the transformation of Nigeria's food systems. Five of those investment models — all designed and led by Nigerian innovators — were presented at the Africa-wide Agricultural Extension Week.
Bolaji Akinboro of Vorian Correlli is leading Nigeria's first blockchain finance solution, AgriFi, which is being piloted in Benue State in collaboration with the Extension Activity. The AgriFi solution is a "framework for connecting the farmer in the village to capital anywhere in the world" Akinboro said. "With the USAID Feed the Future Agriculture Extension [activity] we've begun to start that journey in Nigeria … and that journey is a resounding success." The company is planning to expand its blockchain financing solution to Niger State — another of the Extension Activity's focus states.
Elder Ubi Obeten, the director of extension of the Cross River State Agriculture Development Program, and Jacob Bassey, CEO of Creative Empire, presented information about a model hatchery cluster being constructed in their state in collaboration between aquaculture MSMEs and CRADP. With an annual production capacity of over 12 million juveniles, this public-private partnership brokered by the Extension Activity will take the propagation of juvenile fish production technology to scale.
"This is a business-led extension delivery approach," Odoemena said of the Nigerian government's new extension policy and manual. "The approach strengthens public extension services by lightening their load: that is, it's helping limit their role to coordination and regulation of extension services and allows private sector actors to function as a vehicle to commercialize their products while disseminating extension messaging to farmers." 
The project's work in Nigeria, Africa's most populous country, is critical as the nation strives to reduce its economic dependency on oil and diversify its economy. Though Nigeria's growth has enabled it to become a middle-income country, poverty remains severe in rural areas, where approximately 70% of people are smallholders who produce most of the country's food on non-irrigated plots, according to the International Fund for Agricultural Development.