Each year, February 2nd marks the anniversary of the signing of the Ramsar Convention, now celebrated as World Wetlands Day. Signed by 90% of the world's governments, the treaty aims to galvanize global action to prevent destruction of wetlands and conserve ecosystems. Protecting the world's remaining wetlands is critical because they provide vital ecosystem services, from mitigating climate change to purifying water and providing food and resources for billions of people.
In Indonesia, one of the most wetlands-rich countries in the world, Winrock International is extensively working with communities, government and private sector funders to sustainably manage and restore the island nation's ecologically and economically valuable peatlands. Peatlands are a unique kind of wetland; underlain by layers of decaying plant material, they comprise about half of all wetlands around the world and are found on every continent except Antarctica.
Indonesia is home to nearly one-third of all peatlands on Earth. But these spongy, biodiverse habitats – known as fens or bogs in the West and as lahan gambut in Indonesia ─ are rapidly disappearing.
One big reason why can be found on the shelves of your local supermarket. It's called palm oil ─ and Indonesia produces more than any other country in the world.
Extracted from the fruit of a particular species of palm tree, palm oil is odorless, colorless, and can extend the shelf-life of a wide variety of processed foods, dried goods and cosmetics ─ everything from doughnuts and shampoos to lipsticks, glue and frozen pizza. Its production is so commercially important in Indonesia ─ which produced around 46.5 million metric tons in 2022 ─ that palm plantations have metastasized across the island nation, taking over sensitive forests and wetlands. When peatlands are cleared and drained for planting rows of palm trees, carbon banked there for eons is released into the atmosphere as greenhouse gas emissions, contributing to climate change.
But land cleared for palm plantations is not the only problem. Processing palm oil and disposing of the sludgy, toxic wastewater ─ called palm oil mill effluent ─ also takes an environmental toll in the world's fourth most populous nation. Palm oil processing releases methane, a harmful greenhouse gas, from wastewater storage ponds where sludge and other byproducts accumulate, evaporate, and sometimes seep into local waterways.
Winrock's Ecosystem Services and Clean Energy teams are working to develop and test solutions that protect peatlands, address environmental degradation caused by palm oil production, and offer sustainable livelihood solutions. Indonesia's government and communities are highly motivated to act, recognizing that recent cataclysmic forest fires and worsening floods are directly related to the destruction and draining of peatlands across the islands.
Restoring peatlands and promoting alternative livelihood solutions
In the Siak Regency on Sumatra, Winrock projects funded by the Switzerland-based Good Energies Foundation, and the U.S.-based Packard Foundation and Climate and Land Use Alliance, have enabled communities and government to test alternatives to ditching, draining and clearing peatlands while enabling farmers to develop sustainable livelihoods opportunities.
The sago palm, a starchy native plant used as a staple food in Indonesia ─ a different species than the palms planted for oil productions ─ is one good option. Planting sago palm is part of an environmentally friendly approach called paludiculture, promoted by Winrock in Indonesia, which maintains peatlands' carbon storage capacity while offering economic alternatives to drainage-based agriculture. Sago palm has high tolerance for the harsh peatlands environment, and after processing, its starch used widely in noodles, cakes and sugar, with some communities relying on it as their main source of carbohydrates.
Aside from its starch power, sago can be processed into biodegradable, plastic-like packaging, and also produced for both pulp and fiber. Other paludiculture options on peatlands include planting naturally-collaborative crops, including pineapple, sugar palm and certain hardwood trees.
"Sago is an incredible sustainable livelihoods option for Indonesian communities that need to grow food in and around peatlands, because it's endemic to the peat forests and can live in the swampy conditions without needing the peat drained," says Meyru Bhanti, a GIS specialist with Winrock's Ecosystem Services team. "They naturally flourish with limited care ─ unlike palm oil production which requires extensive maintenance and drainage. Sago increases community resilience to climate change while also allowing folks to generate an income."
Winrock has worked with community members to develop a small sago mill in Bunsur Village to improve access to sago processing. The mill enables farmers to extract starch, dewater and dry it before packaging. The mill currently employs community members and 100% of its proceeds go back into the community. A small pond maintained behind the mill is also being used to produce cork fish, an endemic species and important protein source that is well adapted to peatlands.
"We use this peatland with environmentally friendly management, one of which is by cultivating the land with the commodity that are peatland friendly and it has been tested by the experts, and to introduce to the whole world that this is peatland, we can take advantage of its existence," said Wahyudi, head of the Sungai Apit subdistrict, at an official ribbon cutting for the new sago mill.
Effluent into energy
Greenhouse gas emissions released from processing vast volumes of palm oil, particularly the GHGs released from wastewater known as palm oil mill effluent, or POME, account for roughly a third of total GHG emissions from Indonesia's palm oil industry. In addition to releasing GHGs, effluent can leach into peatlands and waterways, adding organic matter and posing environmental risk by reducing the dissolved oxygen in bodies of water.
Winrock's Clean Energy team is exploring ways to improve management of POME to reduce GHG emissions while generating new revenue streams. The thick brown discharge produced by processing palm fruit bunches consists of wastewater, residual oils and solid wastes. Digestion of organic matter under oxygen-free conditions in lagoons where the effluent is stored causes huge amounts of methane to be released. Methane is one of the worst climate offenders, estimated to have more than 80 times the warming power of CO2.
But the high organic content of POME presents intriguing possibilities for capture and repurposing, including for conversion to clean energy and compost fertilizer. A Winrock-implemented project funded by USAID in Indonesia called CIRCLE ─ short for Capacity for Indonesian Reduction of Carbon in Land Use and Energy ─ explored turning POME into capturable biogas, a potential renewable energy source.
The CIRCLE project, which ran from 2011 to 2016, examined ways to help palm oil mill owners produce energy from POME and improve the sustainability of their operations, in part through the preparation of sustainability and biogas feasibility assessments. The project produced a POME-to-Biogas project development handbook that serves as a guide for palm oil industry members interested in conducting biogas feasibility studies for their facilities.
Through a different project associated with WIPO GREEN, an initiative of the World Intellectual Property Organization, Winrock identified technologies and uses of POME in Indonesia and published its findings in a catalog, Technological Options for the Treatment and Valorization of Palm Oil Effluent in Indonesia. Two potential uses show financial viability for contributing to improved sustainability of palm oil mills, said Bikash Pandey, Winrock's director of Clean Energy. Those include producing biogas to be used as compressed natural gas for transport and cooking fuel and composting for fertilizer use.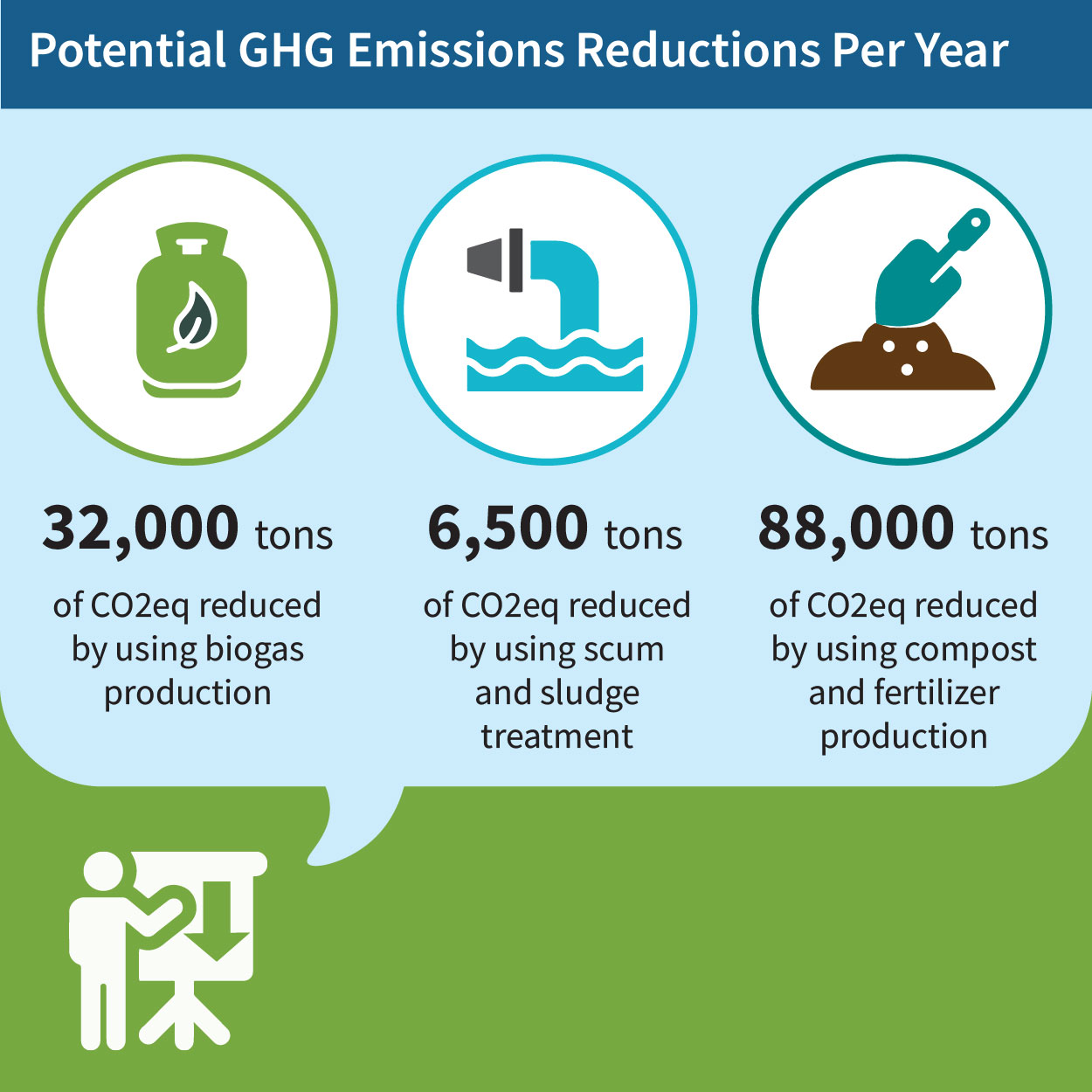 "Winrock used our network of contacts and leadership on POME-to-energy projects to engage palm oil mill owners, suppliers, and industry stakeholders in Indonesia to convert a problematic waste product into a potential renewable energy source," Pandey said.
In addition to biogas conversion, POME can be turned into compost through a decomposition process if mills make proper adjustments to effluent containment, drainage and discharge. One palm oil mill in Jambi already has successfully adopted an aerobic composting system, which speeds up the decomposition process, turning POME into organic fertilizer to improve soil health on rice fields.
"Winrock's work in Indonesia is informing decision-making that promotes clean energy solutions and sustainable land use," Pandey said.
To learn more about peatlands protection and sustainability initiatives implemented by Winrock in Indonesia, check out the Sustainable Peatland Business Model project, the Enhancing Capacity to Reduce GHG Emissions from Peatlands and Palm Oil Production within a Jurisdictional Framework project, and Protecting Peatland Forest Through a Social Forestry Scheme in Siak, Indonesia.